The shot above was taken at Highbanks at the river overlook yesterday.  The eagle was returning to the nest – I had seen where it had perched a few minutes before and simply waited for it to return.  For once, it flew straight up the river past the deck.
I've been considering cutting back on the amount of time I spend waiting for shots like this.  I've put my macro and other nature photography on hold in pursuit of close shots of the eagle.  Given that I am shooting with a 300mm lens, to get a good shot I need the eagle to fly past.  Yesterday was the type of shot I've been hoping to get for the past couple of years.  I plan to cut back on my trips out to the deck.  This was the right light and the right distance – it's hard to hope for a better shot.  So I think it is time to get back to smaller, closer subjects.
This encounter is the closest I have ever been to a Red-Tailed Hawk and the best view I've had of one eating. I was walking on the same trail where I have had a couple of other close encounters. This time I was really fortunate to even have noticed it because it was basically at ground level on a log, surrounded by an environment that it blended into very well. The truth is, I don't remember if it was a sound or the shape of the bird that I detected first. All I know is in an instant, I was aware that the hawk was just up the trail.
I started shooting and cautiously moved forward. I could see that it was eating something and that whatever it had was a fairly good sized meal. After shooting only for a minute or so, I heard voices coming down the trail from the other direction. I figured my time was about up with the hawk as I snapped a few shots. Instead, the hawk watched them carefully, apparently unwilling to leave its meal. The people walked by unaware of the hawk, but stopped to speak to me. By now I was changing cards, as I had filled up the space I had available on the first one. After a brief conversation, I moved up closer to the hawk since it was not ready to fly off.
Eventually I was able to move up the hill so that I was shooting down toward the hawk. Several more hikers passed me, some noticing the hawk I was shooting, others ignoring me altogether and not seeing the hawk. I was pretty close by now. As close as I would dare to get to an animal while it was eating and closer than I had ever hoped I could get. I was quickly running out of time and would have to leave soon, when I heard another hawk. This was the angry call that I heard last spring when I saw some fledglings and the parents were not too happy about the hikers who were walking through the area.
At the time, I was not sure if the cry was directed at me or the dining hawk. I soon realized it was directed at the hawk, because as I headed back up the trail to my car I saw three Red-Tailed Hawks swooping after each other and calling that same call. It was a battle over territory, and not a beef with the photographer.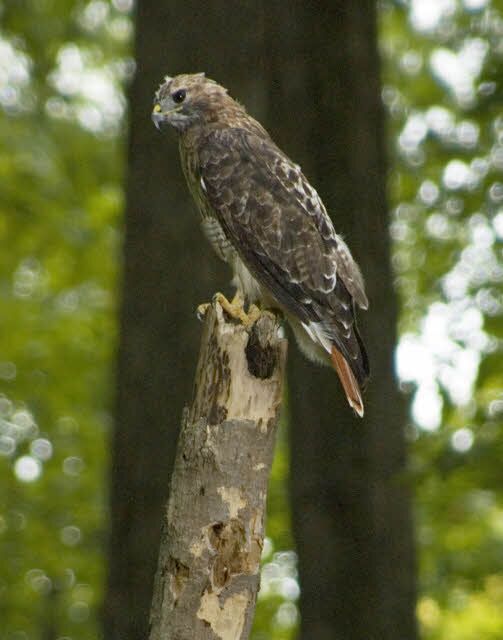 NOTE: I thought I'd cover some of my favorite hawk photos and how I got the shots. This first one is not the earliest encounter, but it was the first in a series I've gotten in the same section of woods in a Columbus MetroPark.
I ran across this hawk while I was walking a trail in a nearby MetroPark. I saw movement across the trail ahead of me and immediately realized it was a hawk. I could tell it was carrying something. The most amazing thing was that it landed on a branch nearby, hardly taking any notice of me at all! I had to move a bit to get a decent view of him and while I was carefully moving over, he ate his lunch, probably a garter snake.
Since he was sitting still and so close by, I decided to try to get my flash out, and grab a few shots with some decent lighting. Before I could really get set up though, he had taken off to another location that was still visible to me. While I kept an eye on him, I finished setting up my lighting gear. I had my Vivitar 285HV on a light stand, triggered by my "eBay" slaves. The hawk's new location was atop a thin, dead tree at the bottom of a ravine. I made a fairly easy decent halfway down the hillside to a location that was somewhat shielded by trees. I set the light stand against a tree and aimed it at the hawk.
The day was overcast enough that the flash did make a difference. I fired a few shots from this location and then decided to venture further down the ravine. The Red-Tailed Hawk kept an eye on me, but didn't seem to mind my presence too much. I probably had a good fifteen minutes of shooting, moving further down, shooting some more. Finally I decided that if I was going to get a better shot, I was going to have to go back up the hill to get my light stand and move it closer, back down the hill. I did just that and even managed to get a few more shots before the hawk took off for a remote section of the woods.

You can see more of my hawk photos at PatterPhotography.com