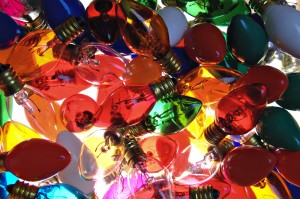 Over the last couple of years we've seen our strings of Christmas lights failing.  At the end of last season we decided that this year we would switch to LED Christmas lights –  which is just what we did.  But we didn't throw out the old lights that still work, we salvaged them.
When I looked at the box full of lights, I got the idea for the shot above.  It was simple to set up.  I just took a card board box and put a flash and my cybersync trigger into it.  I put a sheet of plastic diffusion material over the box.   Then I put a box with no bottom on top of the diffusion material.  This top box just keeps the lights from falling off and let me create layers of light bulbs.
That was it.  Then I just experimented with framing the image and exposure.  In the end I added a second flash above to illuminate the threads on the bulbs, otherwise they were pretty much just silhouettes.
Here is another case where an impromptu studio fit the bill.  I was outside in my own yard when I ran across this Praying Mantis.  I grabbed a piece of black foam core and set up on a table in the backyard.
In this case, my CyberSync transmitter was dead (original battery, about a year old now).  So I used my on camera flash and (eventually) two Promaster flashes.   The second photo below was actually taken first, with only one off camera flash.  The other two were done both done with 2 off camera flashes triggered optically by the on camera flash. 
This is the second mantis I've found this year.  I've noticed they both like to 'chew their nails', something I was glad to catch, as seen in the third image.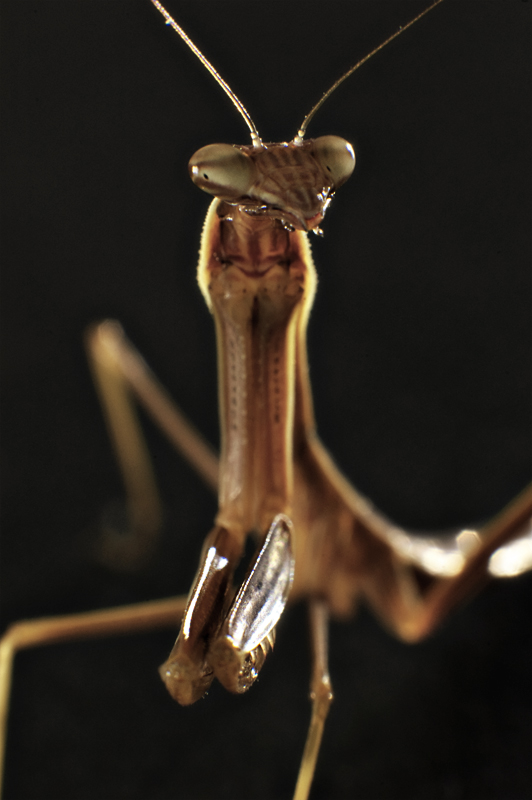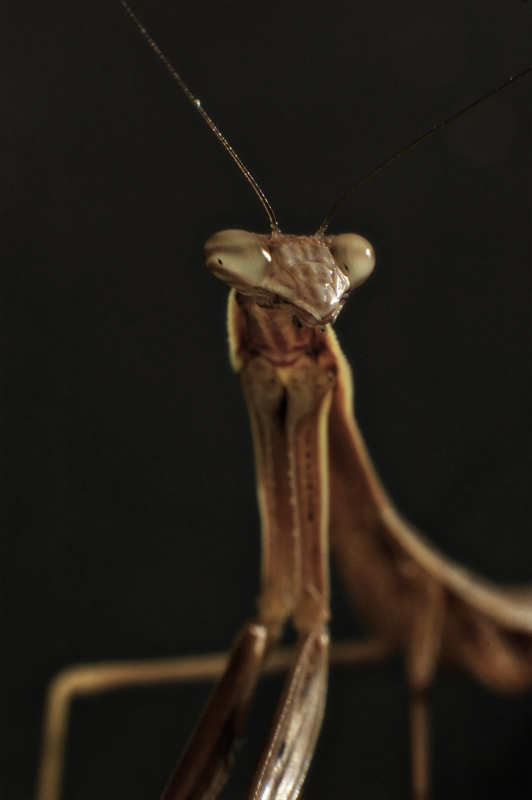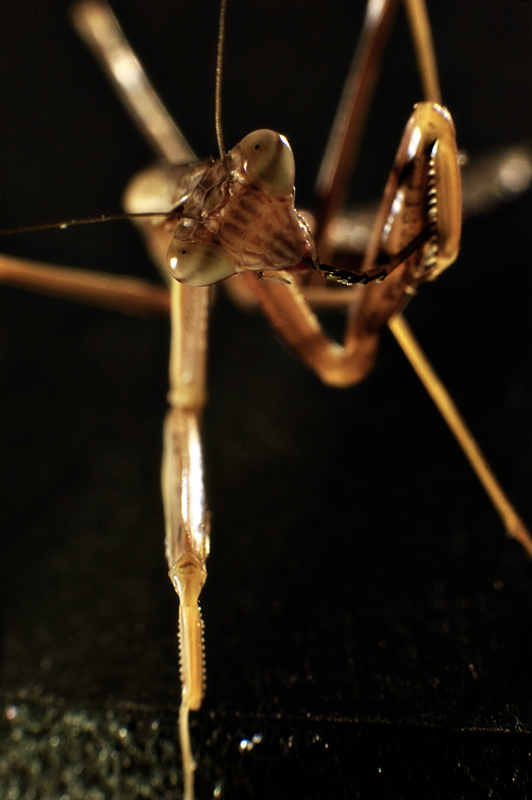 Want to try your hand at macro photography, but you are hesitant to drop $500 plus on a macro lens? Then this little demo is for you. I am going to explain two tools that I use when shooting macro. Neither one is terribly complex and by photographic equipment standards, both are fairly inexpensive.
In this first article, I want to talk about close up filters. I am always surprised that more people don't seem to know about these, because they are easy to use and carry, and can even be used with some point and shoot type cameras. In fact, I first tried these with a Fuji S5000, and then later purchased a set for my Nikon DSLR.
To use a close-up filter, you attach it to your lens just like you would any other filter. You can also add more than one of these filters at once, enabling you to greatly increase the magnification of your macro subject.
There is a quality cost for doing so, though. The higher the magnification, the more you will see chromatic abberation or color fringing around the edges of an object. To demonstrate this, I have taken photos of a couple of household objects at various magnifications.
Here is our base photograph taken with my Tamron lens @300mm.

Below on the left is pretty much the same shot, same lens, but with a +1 filter added (I did have to adjust the camera closer). As you can see, there is not a great deal of difference between the +1 and the base photo. When I add the +2 close up filter (right), the difference is a bit more obvious.

At +4 (left) you can see the color change around some of the edges of the ruler. On the right is a photo with all three filters stacked, for a +7 magnification.

Look closely at the shadow around the bottom of the ruler for a hint of blue that should not be there.

Macro photographers tend to work with a very narrow depth of field, and these filters are no exception. Aside from the color issue, you will notice that less and less of the ruler is in focus as our magnification increases. You can extend the depth to some extent by controlling the aperture.
With the set I own, you have to stack them with the lowest magnification closest to the lens, then build up. If you put the +4 on first, the next filter will rub against the glass, because the curvature of the glass extends beyond the depth of the mounting ring.

You should be able to find them at any good camera shop. If you want to find them online, check out Adorama.
What can you really do with these? See the photo below:


My next post on macro photography will cover reversing a lens to create a "macro" lens.
Visit my photography site at PatterPhotography.com