Two new eagles appeared at Highbanks Metro Park today! This pair was not a welcome addition as far as the nesting eagles were concerned. There were at least two mid air battles between the eagles, some of which I was fortunate enough to capture. I will upload the images and more details tonight. Check back for more tomorrow!
I decided to re-work a couple of the eagle photos.  As I was looking at the RAW images, I realized I could recover much of the sky that had been blown out.  The first image below is not too different than the one in the earlier post.  But the second image has a very dramatic sky now.  It was badly blown out in the original image, but is striking after a little work. 
 The next two images were shot on a different day and fortunately, feature a beautiful blue sky that really didn't need any enhancing.
Yesterday (Monday) I saw the female eagle again. I had decided to take an older 300mm lens (circa 1970s) to use if the eagles were stationary. The manual focus is challenging with digital cameras without the focus aids that the older 35mm cameras used. Since the eagle was sitting out and not moving I put the 300mm on the camera.  Of course that was when the eagle took off and I didn't want to risk trying to change lenses.
This was the closest the eagle has flown to the observation deck when I have been there:
Now both photos have been cropped to get this close.  Am I completely happy with the images?  No.   I think I probably could have gotten a sharper image with the 200mm auto focus zoom lens.  Am I going to complain though?  NO!  After all, I was there, experienced the 'fly-by' AND got the shot!
 In February I started hearing that eagles had been seen in Highbanks Metro Park.  Wow! 
(I've only seen an eagle in the wild once before and that time I was restricted to looking at it from behind a fenced area.  I've always thought it ironic that I could only view our nation's symbol of freedom from outside an area that I was restricted from entering!)
Since hearing of the eagles this year, I started walking out to the area where they had been reported (at the river overlook) and after a week I had my first encounter.  A week later I was fortunate to be there when one of the eagles flew up the river near the overlook deck, and I snapped the images you see here:
I am currently exhibiting 15 pieces at the Westminster-Thurber Community in Columbus, Ohio.  The exhibit runs from January through February of 2010.
While the purpose of the exhibits at Westminster-Thurber is to enrich the lives of its residents and visitors, the exhibit is open to the public.   Thanks to the fine folks at Westminster-Thurber for giving me the opportunity to display my work.  Thanks also to the Westbridge Camera Club who helped make this possible.
I love looking at other artists work. Especially when you hit a dry spell, it often helps to see how they solve visual problems, deal with light, approach a composition. 
I met Greg Strausz at a Newark Area Men's Walk to Emmaus this fall. His color pencil work is just amazing!   Not only is the attention to detail inspiring, but he does all of this in a light, humorous way.  Please check it out at Gregsgarageofart.com (click on Art Gallery to view his work) and help support his ministry by purchasing a print!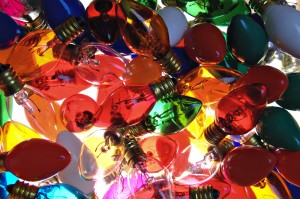 Over the last couple of years we've seen our strings of Christmas lights failing.  At the end of last season we decided that this year we would switch to LED Christmas lights –  which is just what we did.  But we didn't throw out the old lights that still work, we salvaged them.
When I looked at the box full of lights, I got the idea for the shot above.  It was simple to set up.  I just took a card board box and put a flash and my cybersync trigger into it.  I put a sheet of plastic diffusion material over the box.   Then I put a box with no bottom on top of the diffusion material.  This top box just keeps the lights from falling off and let me create layers of light bulbs.
That was it.  Then I just experimented with framing the image and exposure.  In the end I added a second flash above to illuminate the threads on the bulbs, otherwise they were pretty much just silhouettes.
Many thanks to  Tuttleimages, Midwest Photo Exchange (MPEX), and Central City Recording, a recording studio in Columbus, Ohio.  These fine folks organized and/or sponsored the Ohio Strobist meet up held on November 14th at the Central City Recording studio.
Our meet up featured 13 models in music themed settings.   Below are few samples from the shoot.
I am currently part of a photography exhibit showing the work of 21 members of the Westbridge Camera Club. The show runs at the Black Creek Bistro through the end of October. The Black Creek Bistro is located at 51 Parsons Avenue in Columbus, Ohio. For more information, visit www.blackcreekbistro.com.
Here is another case where an impromptu studio fit the bill.  I was outside in my own yard when I ran across this Praying Mantis.  I grabbed a piece of black foam core and set up on a table in the backyard.
In this case, my CyberSync transmitter was dead (original battery, about a year old now).  So I used my on camera flash and (eventually) two Promaster flashes.   The second photo below was actually taken first, with only one off camera flash.  The other two were done both done with 2 off camera flashes triggered optically by the on camera flash. 
This is the second mantis I've found this year.  I've noticed they both like to 'chew their nails', something I was glad to catch, as seen in the third image.