Archive for the 'Macro' Category
You are currently browsing the archives for the Macro category.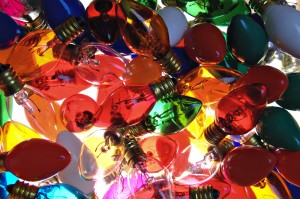 Over the last couple of years we've seen our strings of Christmas lights failing.  At the end of last season we decided that this year we would switch to LED Christmas lights –  which is just what we did.  But we didn't throw out the old lights that still work, we salvaged them.
When I looked at the box full of lights, I got the idea for the shot above.  It was simple to set up.  I just took a card board box and put a flash and my cybersync trigger into it.  I put a sheet of plastic diffusion material over the box.   Then I put a box with no bottom on top of the diffusion material.  This top box just keeps the lights from falling off and let me create layers of light bulbs.
That was it.  Then I just experimented with framing the image and exposure.  In the end I added a second flash above to illuminate the threads on the bulbs, otherwise they were pretty much just silhouettes.
Here is another case where an impromptu studio fit the bill.  I was outside in my own yard when I ran across this Praying Mantis.  I grabbed a piece of black foam core and set up on a table in the backyard.
In this case, my CyberSync transmitter was dead (original battery, about a year old now).  So I used my on camera flash and (eventually) two Promaster flashes.   The second photo below was actually taken first, with only one off camera flash.  The other two were done both done with 2 off camera flashes triggered optically by the on camera flash. 
This is the second mantis I've found this year.  I've noticed they both like to 'chew their nails', something I was glad to catch, as seen in the third image.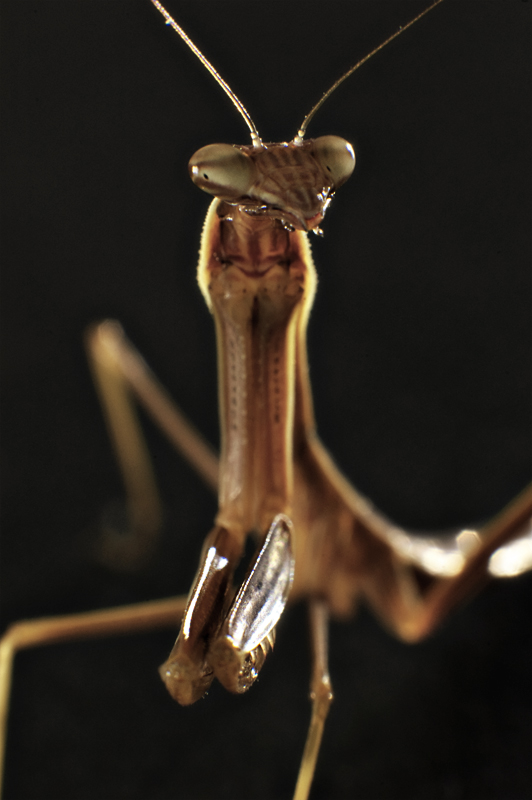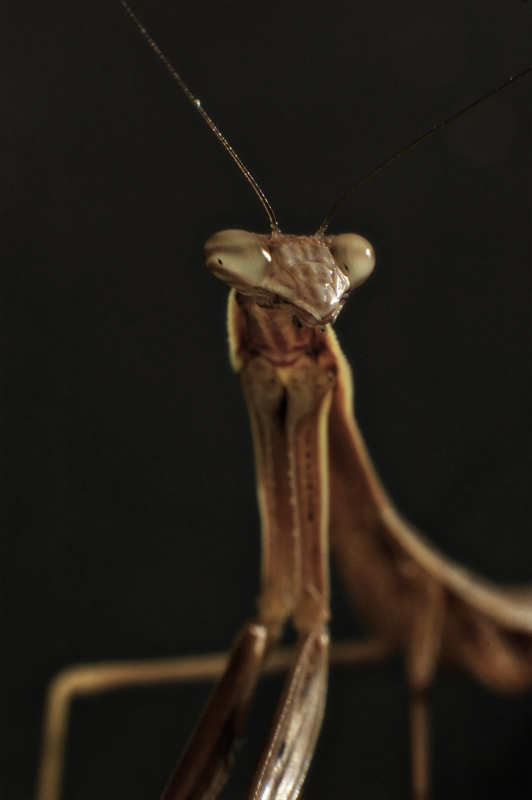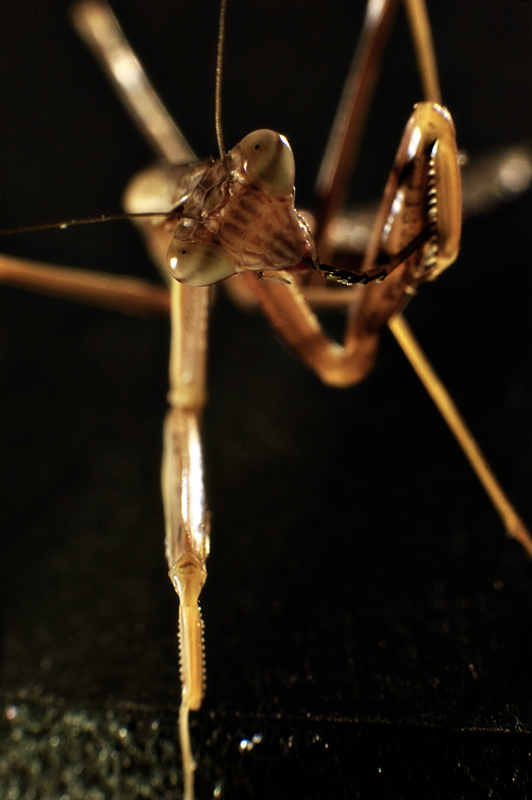 A couple of nights ago my wife told me there was a big, ugly bug outside next to the front door.  She wasn't referring to a gaudily decorated VW, but instead I found what turned out to be a stag beetle.  Naturally, I could not pass up the chance to shoot something so weird looking, so I gathered up my gear and went out to the front porch.  At first I just shot it in place, hanging on a piece of trim around siding.  I mean, IT was hanging on a piece of trim around the siding.  I wasn't. I was standing on the deck.  Anyway, grammar issues aside, that wasn't really yielding anything too interesting, so I started looking around to see what else I could try.
I decided to use a small, glass topped table we have on the porch.  I went inside, grabbed a piece of  printer paper and some foam core.  I placed a flash under the glass table and set my camera on the tripod.  Now, it was dark and I use a manual focus 50mm lens with extension tubes for macro shots.  That meant a lot of opening up the aperture, focusing, stopping back down to f/8 or so and shooting.  Oh, and I was holding the foam core directly over the beetle to bounce light back down onto it so it wasn't just a silhouette.  Meanwhile, the beetle is moving around, so I had to constantly reset everything.  Still, I thought a couple of the shots came out pretty cool.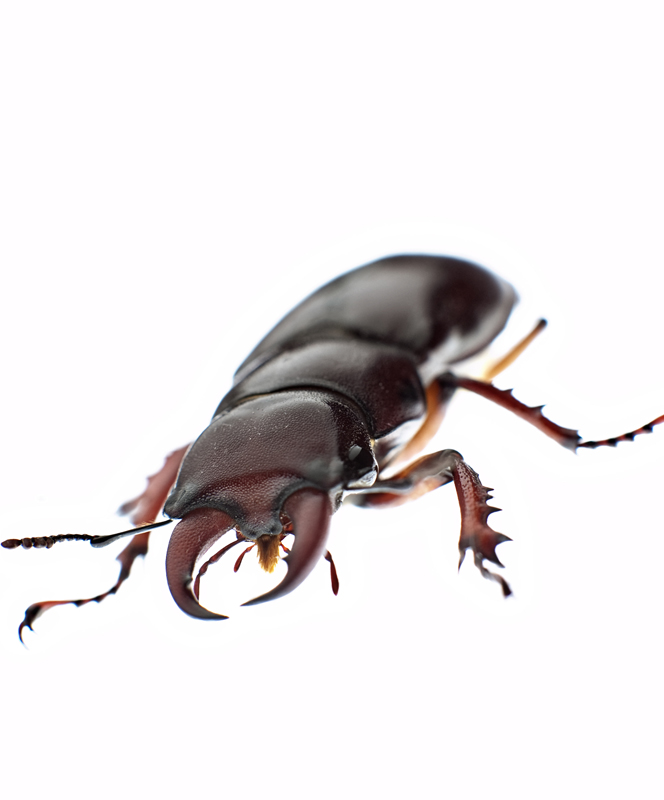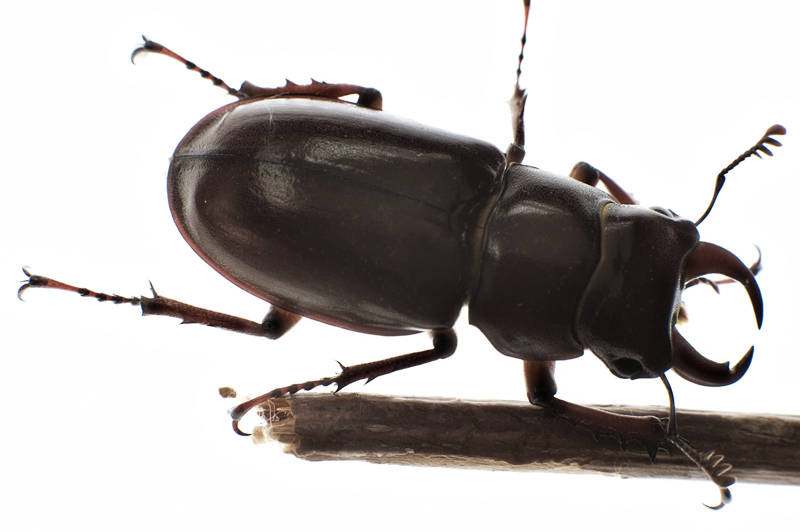 For those of you who like set up shots, here it is.  I'm not sure what I was thinking, but I went crazy with the labels.  If you can't identify a tripod without help, then this is for you: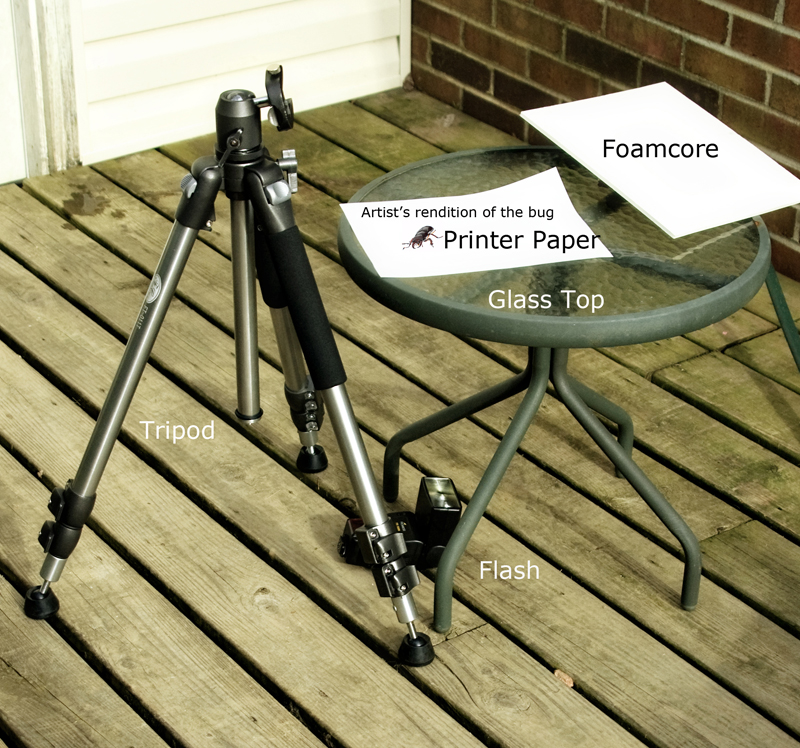 Skeletal Remains, originally uploaded by the patter.
These are the remains of a flower (a Day Lily) at the end of autumn. I set up a small black card as background, held the subject upright with some play-dough. I used a 50mm lens with extension tubes and lit it from the side with off camera flash.
This was a simple set up and subject, but it got me to thinking a lot about how I might expand the set up and use different plants, etc. This photo won 1st prize at the Westbridge Camera Club's monthly competition. Since making this image, I've started work on a series of images, one of which has also won first prize. More to come on the series, but for now, enjoy!
In my first article, I wrote about close up filters, an inexpensive way to get into macro photography. In this article, I will be talking about another way to "create" a macro lens. Depending on your situation, this may also be an inexpensive endeavor.
Let's say you just walked your old 50mm lens out to the curb for trash man to pick up. You used it with the old 35mm film camera, but maybe the mount is different than your DSLR or you switched camps and have no use for the old lens.
WHAT ARE YOU, NUTS?!?! YOU JUST THREW AWAY A FREE MACRO LENS! Get back out to the curb NOW!
That's right, if you have an old lens laying around, you don't have to pay another cent. The really great thing about this is that it doesn't matter what brand of lens you reverse. Canon, Nikon, whatever you have on hand
When I bought my Nikon, I thought my old lenses would fit the D50. Turns out most of my lenses are just a little too old. Too bad because I had quite a few. Then I discovered that if you have a lens and mount it to the camera backwards, voila, you have a macro lens.
There are two ways to use your lens backwards. One is an adapter that will let you mount the lens backwards on the camera. I've even seen a DIY adapter, though personally I would not use it since it is constructed of plastic and epoxy. Probably not a big deal, but the adapter will probably run you about $15 so DIY will not yield a big savings here.
The second method, which I use, requires two lenses. It turns out that the 80-200mm zoom lens that I had for my old Nikon F does fit the D50. It's not a fast lens and I probably wouldn't use it for much else anyway. I also have a 50mm f1.4 that does not fit my D50. Both lenses happen to take a 52mm filter, meaning the front of each lens is the same diameter.
To create my macro lens, I put the two lenses together, as shown in the picture below.


When I first read about this, I was eager to find out how well this would work, and I couldn't locate a macro coupler. So I improvised and used a piece of electrical tape to hold the lenses together. Since I consider this a dedicated macro lens, this works great. The original piece of tape is still holding the lenses in place a year later. I know I dismissed the DIY adapter a minute ago as risky, but really, the tape does work well.
If you want to find the macro couplers, check here.
What you need to know about this technique is that you have to be extremely close to your subject. Here is why: under normal circumstances, the lens element is designed to focus on the film plane. When you reverse the lens, that distance doesn't change – but instead of the film plane, your macro subject is in that location.
Another important fact, the faster the lens, the better. Unless you are going for a vignette effect, you want the reversed lens to be set to its widest aperture. Also, depth of field is extremely shallow with this technique.
In the previous article, I showed samples of how close you can get with the close up filters. As a reference, here are two shots from last time, and below that two shots with the reversed lens technique.
| | |
| --- | --- |
| 300mm, no close up filter | 300mm, +7 close up |
| 70mm zoom w/ 50 mm reversed | 200mm zoom w/ 50 mm reversed |
Obviously your results will vary, depending on what lenses are used to comprise your macro lens. Ready for some real world examples? Here are some critters who were cooperative enough to let me get close to them. For reference, the spider descending toward my face was approximately a quarter of an inch in diameter.
Click on the fly to see a high res version.
Want to try your hand at macro photography, but you are hesitant to drop $500 plus on a macro lens? Then this little demo is for you. I am going to explain two tools that I use when shooting macro. Neither one is terribly complex and by photographic equipment standards, both are fairly inexpensive.
In this first article, I want to talk about close up filters. I am always surprised that more people don't seem to know about these, because they are easy to use and carry, and can even be used with some point and shoot type cameras. In fact, I first tried these with a Fuji S5000, and then later purchased a set for my Nikon DSLR.
To use a close-up filter, you attach it to your lens just like you would any other filter. You can also add more than one of these filters at once, enabling you to greatly increase the magnification of your macro subject.
There is a quality cost for doing so, though. The higher the magnification, the more you will see chromatic abberation or color fringing around the edges of an object. To demonstrate this, I have taken photos of a couple of household objects at various magnifications.
Here is our base photograph taken with my Tamron lens @300mm.

Below on the left is pretty much the same shot, same lens, but with a +1 filter added (I did have to adjust the camera closer). As you can see, there is not a great deal of difference between the +1 and the base photo. When I add the +2 close up filter (right), the difference is a bit more obvious.

At +4 (left) you can see the color change around some of the edges of the ruler. On the right is a photo with all three filters stacked, for a +7 magnification.

Look closely at the shadow around the bottom of the ruler for a hint of blue that should not be there.

Macro photographers tend to work with a very narrow depth of field, and these filters are no exception. Aside from the color issue, you will notice that less and less of the ruler is in focus as our magnification increases. You can extend the depth to some extent by controlling the aperture.
With the set I own, you have to stack them with the lowest magnification closest to the lens, then build up. If you put the +4 on first, the next filter will rub against the glass, because the curvature of the glass extends beyond the depth of the mounting ring.

You should be able to find them at any good camera shop. If you want to find them online, check out Adorama.
What can you really do with these? See the photo below:


My next post on macro photography will cover reversing a lens to create a "macro" lens.
Visit my photography site at PatterPhotography.com